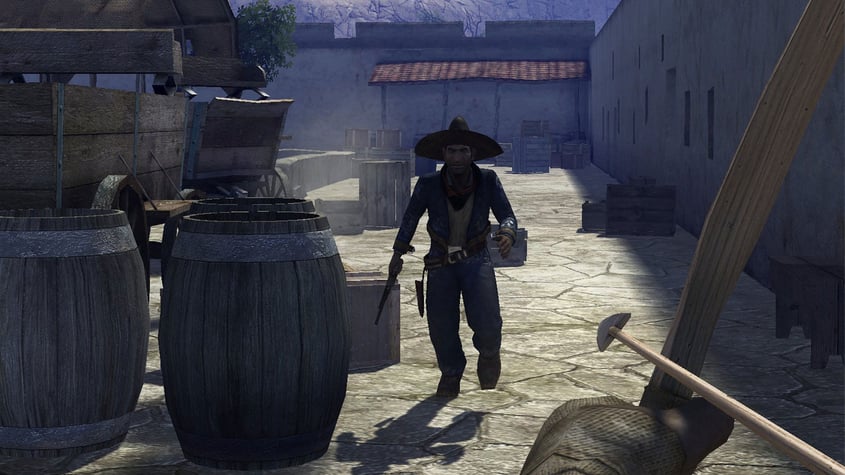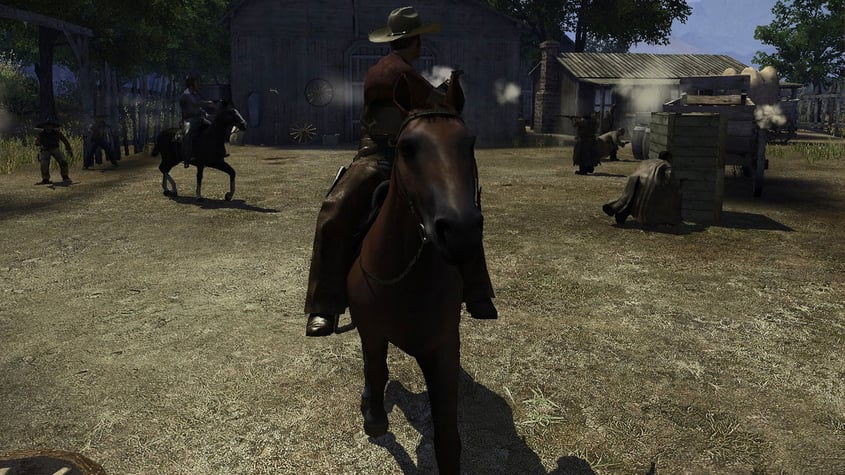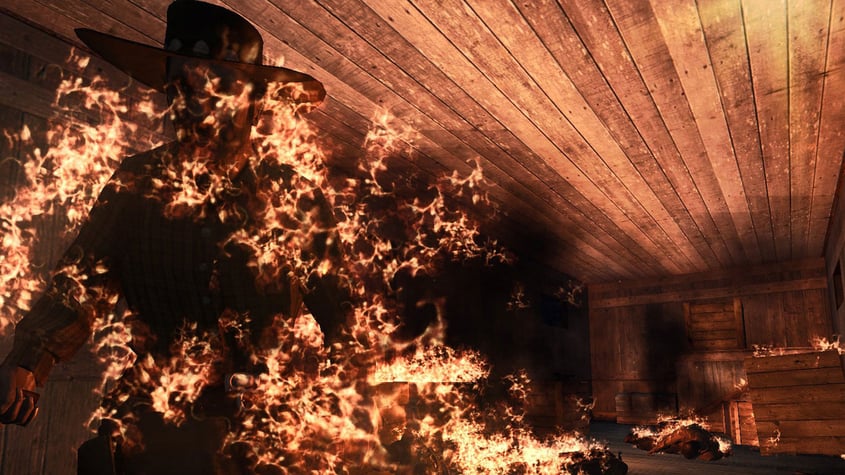 Out Of Stock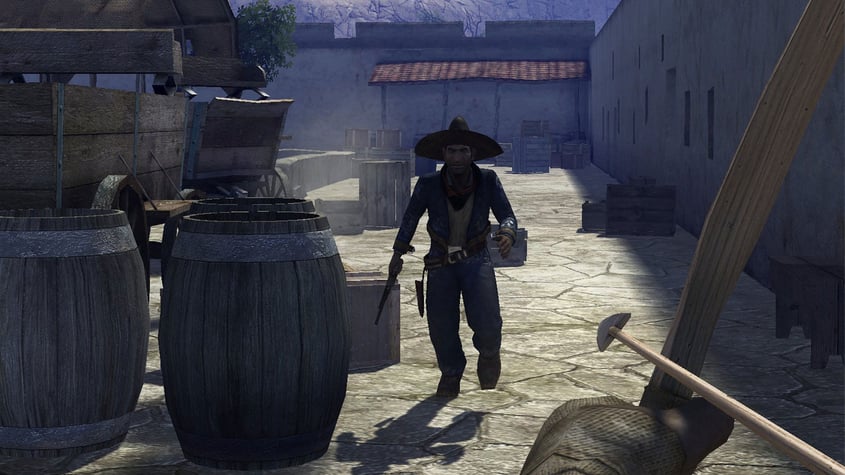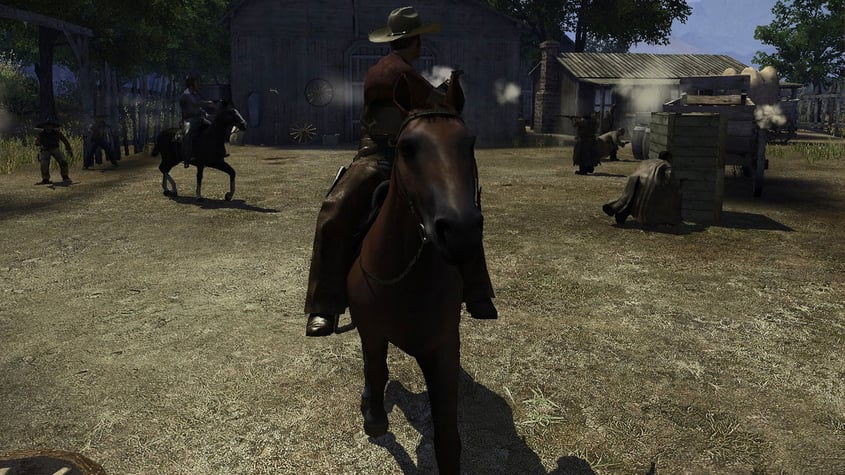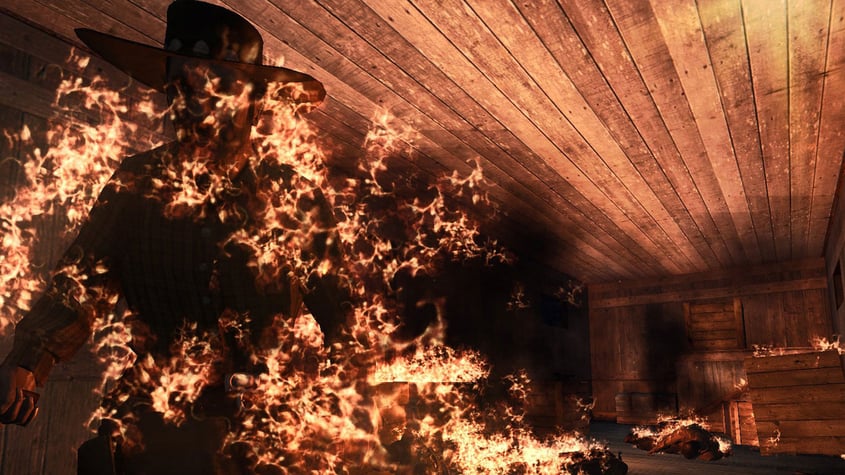 Feel the excitement of a western-themed first person shooter in Call of Juarez. Get the best out of the era-appropriate details like horse riding in memorable locations set after Western movies.
Call of Juarez is an epic adventure western themed FPS game. The player alternately assumes the roles of two distinct, antagonistic characters: a sneaking fugitive Billy and his hunter the reverend Ray. Apart from the highly interesting, emotional and psychological aspect of the link between the two characters, the player will experience a variety of gameplay with many differences whilst playing a particular character.
The game features fast paced revolver duels using historically accurate firearms, horseback riding, mounted combat and stealth actions in memorable locations set after Western movies. Emergent gameplay based on accurate simulation of not only rigid bodies and rag-dolls but also liquids, gases, fire and smoke makes the gameplay innovative and non-linear.
Very serious approach to the Wild West theme and detailed reconstruction of the character and visuals of that times
The use of physics and innovative simulation of fire, liquids, dust, smokes and gases to construct emergent gameplay
State of the art graphics making use of the top technology graphics cards features on todays cards
Playing 2 distinct characters with different abilities and different gameplay
Horseback riding and saddle shooting, gunfighter duels
Using the whip to fight, move objects and move the player's character
Legendary weapons form the Gold Fever era and full akimbo mode for the hands on approach
Exhilarating storyline with full of twists and turns in this exciting Western Genre.
Windows® 2000/XP (only), 2.2 GHz Pentium® 4, AMD Athlon™ 2400+, or 2.4 GHz Celeron or better (3 GHz Pentium 4, AMD Athlon 3000+, or 3 GHz Celeron or better recommended), 512 MB RAM (1 GB recommended), nVidia: GF6600, ATI: Radeon 9800 or better video card*, DirectX 9-compliant sound device, DirectX 9.0c or higher, 2 GB Hard Drive Space, Windows-compliant mouse and keyboard
*SUPPORTED VIDEO CARDS AT TIME OF RELEASE: nVidia GeForce 6600, 6800, 7600, 7800, 7900 ATI Radeon: 9800, X800, X1300, X1600, X1800. X1900
To activate the Steam key you've received, follow the instructions below;
First up, open the Steam client. (If you don't have it, simply click the "Install Steam" button here => Steam Store )
Sign in to your Steam account. (If you don't have one, click here to create a new one => Steam Account)
Click on the "ADD A GAME" button in the bottom corner of the client.
Then, select "Activate a product on Steam..."
Write down or copy-paste the activation key that you've received from GamesForPlay in the window.
Your game is now visible in your library! Click on your "Library".
And finally, click on the game and select "Install" to start your download.
Call of Juarez - Steam - ROW
Developer:

Techland

Publisher:

Techland Publishing

Platform:

Operating System:

Release Date:

22 Mar 2023